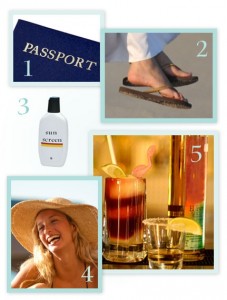 The Top 5 Cabo Bride's Essentials
Whether you're having a 150 guest massive old Hollywood glamour wedding or a simple elegant elopement for two, here is a list of 5 essentials for every Los Cabos bride:
1. Passport
In order to go to Los Cabos from the US, you're going to need a passport. I know this may sound like a no-brainer; however, with the several thousand details that you have been responsible for planning since the day you said, "yes," sometimes the most obvious can be overlooked. Make sure to have your passport tucked safely away in your carry-on luggage long before you leave for the airport.
2. Comfy Shoes
While your wedding shoes will definitely be on your checklist of items to bring, you will also want to include your favorite pair of walking shoes. After your big day, you will not want to miss what the area has to offer. You and your husband may want to head up to San Jose del Cabo and stroll through this hidden gem. Here you can find unique art, authentic dining and a town square filled with historical monuments. In Cabo San Lucas you are sure to put miles of lasting memories on those comfy pair of shoes as you wander around the marina and Cabo San Lucas proper.
3. Sunscreen
I'm sure that you're thinking "Of course I'll bring sunscreen!" However, while you and your bridesmaids are lounging around the pool, with a margarita in hand, the day before your wedding, the Cabo sun could do its damage unless you've covered up SPF30. I can't think of anything worse than a really bad sun burn on your wedding day. While our make up and hair divas at Suzanne Morel are sometimes called magicians, even magic can't take a way the pain of a beautiful wedding dress rubbing against freshly sunburned skin. Pack it in and smear it on so you're sure to feel spectacular on your special day!
4. Sense of humor
Steinbeck said it best "The best laid schemes of mice and men / Go oft awry". You can have everything planned, have everyone in their place, have the best vendors available, and something is still sure to go awry. Just keep chanting to yourself "I'm on vacation. I'm on vacation." Because even the worst day on vacation is still vacation and if you can take a step back, you will remember why you're there – to get married in the most beautiful place imaginable! And that should put a giant smile on your face. Feel the love, take a breath, and take a shot of….
5. TEQUILA
You're in Mexico! Celebrate! Tequila tasting! Have a margarita! Put your feet up, enjoy the million dollar sunset and focus on why you're in Los Cabos! Soak up the sun, suck down a cocktail, and cherish every moment. You've made it! You're in Cabo with the person of your dreams, you just got married, and there is nothing going on more special than that.
erciliam
Ercilia shares the latest info about Los Cabos, Mexico destination weddings, travel, ecology, events and fun from CaboVillas.com via our blog, Facebook and Twitter. To start planning your Los Cabos destination wedding, contact our reservations team.