5 Great Rehearsal Party Ideas for your Los Cabos Destination Wedding
Your one-of-a-kind Cabo wedding deserves an equally unique rehearsal party! Once you've picked the perfect venue for your destination wedding in beautifully sunny Los Cabos, it's time to plan a special rehearsal dinner celebration to kick-off the wedding festivities with family and friends. Luckily, Los Cabos is home to a breathtaking variety of extraordinary locations for a very special soiree! Here are a few of our favorite rehearsal party ideas for an unforgettable evening at Land's End:
1. Villa Party: Whether you're planning to get married in a private Cabo villa rental or just want a truly impressive setting for your rehearsal party, a catered villa dinner party is a memorable start to the fun. A variety of international catering menus, service staff and décor options allow you to completely customize your experience. How about an evening wine pairing dinner on the private poolside terrace of a magnificent ocean-view villa? Or, why not plan a Mexican fiesta complete with a tequila tasting? Villas can accommodate a variety of group sizes and span the gamut of architectural styles and scenic locations to suit your personal style. Explore Cabo villas…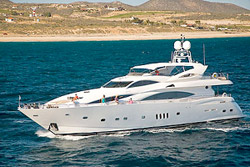 2. Private Yacht Charter: Want to live it up like a celeb? Charter a private yacht for a sunset dinner cruise and you're in for the experience of a lifetime. Perfect for small groups, this is a fantastic way to enjoy gourmet cuisine while admiring vistas of the Sea of Cortez and Pacific Ocean while you cruise to the iconic arch at Land's End in Cabo San Lucas. Sip champagne with your guests on a beautiful yacht like the 105-foot Scorpio and the experience will be as priceless as the panoramas. Explore more Cabo yacht charters…
3. Cabo's Gourmet Restaurants: Los Cabos is home to a dazzling variety of award-winning restaurants. Whether you're looking for the freshest sushi, a romantic hacienda-style setting or innovative Mexican-Mediterranean fusion cuisine, you'll find plenty of tantalizing dining options from Cabo San Lucas to San José del Cabo. Edith's is a Cabo legend and a favorite for rehearsal dinners, with plenty of charm and an atmospheric palapa-shaded patio lit by lanterns. Explore more Los Cabos dining…
4. A Floating Private Beach Club: La Isla: It doesn't get more "one-of-a-kind" than La Isla, a motorized platform that departs the Cabo San Lucas marina out into the bay. Described as a "floating beach club" or a "floating patio," this unique vessel offers a bar, bathroom, shade and space for up to 30 guests to dine and relax in comfort. A variety of catering and décor options mean you can totally personalize the ambiance for your private party. More about La Isla…
5. Host a Beach Party! Keep an eye out for migrating whales as you and your guests dine barefoot in the sand! Whether you want a casual beach bash or an elegant evening dinner party, Cabo's beautiful beaches are a great setting for your rehearsal celebration—and professional catering and event services make it a breeze to plan.
Ready to start planning your Cabo wedding? We can help!
erciliam
Ercilia shares the latest info about Los Cabos, Mexico destination weddings, travel, ecology, events and fun from CaboVillas.com via our blog, Facebook and Twitter. To start planning your Los Cabos destination wedding, contact our reservations team.