Cabo San Lucas Wedding Venue of the Week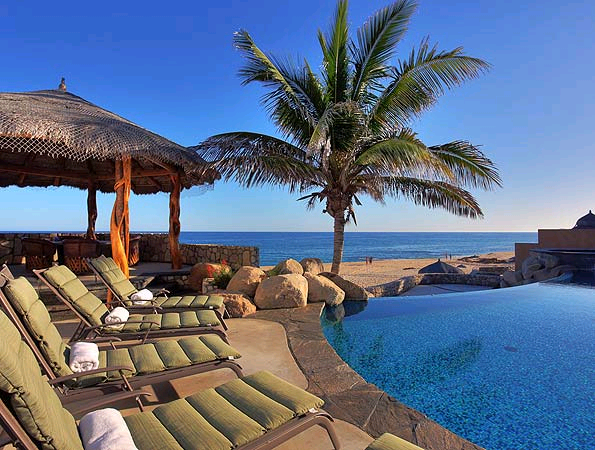 Set this scene in your imagination; the soft lapping of sparkling waves on a beach you can reach out and touch, multiple levels of brilliant blues stretching to the horizon, the beguiling sights of Palmilla Point and Punta Gorda—and you kicking back with friends and family in the spacious and cleverly designed patio and palapa area outside this luxury villa. That's just one slice of the luscious cake that is Villa Dios del Mar, a 5-bedroom, 5-bath retreat in the stunning East Cape area of Los Cabos. Gracious living is easy at Dios del Mar, and not just because of its creative design. The 4,500 square feet of living space includes two lovely casitas separated from the main house (one with a large jacuzzi tub), as well as three bedrooms in the central home. Of course, all have tasty views of that endless ocean.
The details are done right at Dios del Mar , with custom-built furnishings and cabinetry, hand-made doors, travertine floors. Marble and natural stone finishes compliment the home's design. Bet on a sure thing and plan your next getaway at Dios del Mar. Even if you spend all your time at the swim-up bar in that fantastic 26,000 gallon pool, it will be the vacation of your lifetime.
Note: Villa Dios del Mar is for sale and Real Estate Agents are required to give you a 24-hour notice to show the property. It is limited to once per day. Please contact Earth, Sea & Sky Vacations if there are any issues with the real estate showing.
NOTE: Villa Dios del Mar can accommodate wedding parties/events of up to 75 guests (sit down) and 150 (standing). One-night additional rental fee (minimum 3-night rental required).
erciliam
Ercilia shares the latest info about Los Cabos, Mexico destination weddings, travel, ecology, events and fun from CaboVillas.com via our blog, Facebook and Twitter. To start planning your Los Cabos destination wedding, contact our reservations team.