An Anniversary to Remember at Villa Turquesa
Cabo's villa rentals aren't just great for destination weddings; they're also perfect for anniversary celebrations and other special events. And it certainly does not get more memorable than Villa Turquesa, a stunningly luxurious 9-bedroom villa dramatically situated on a rocky cliffside overlooking the Pacific Ocean in Cabo San Lucas. This breathtakingly beautiful villa was recently the scene for a very special 50th wedding anniversary celebration, including a vow renewal ceremony, ocean-view dinner party and stunning party décor by Linens, Things & More. The spacious villa and magical views were the spectacular backdrop for this one-of-a-kind celebration, with designer accents perfectly harmonizing with Villa Turquesa's magnificent architecture and the sparkling ocean blues of Cabo.
The 15,000-square-foot 9BR/11BA Villa Turquesa sleeps up to 20 adults and 8 children and boasts a number of attractive amenities, including a gourmet kitchen, spacious ocean-view terraces, plush bedroom suites, an outdoor fireplace, a pool with a swim-up bar and more. Villa Turquesa can accommodate wedding parties/special events for up to 100 guests (sit down or stand up).
For this anniversary party, classically elegant decorations blended seamlessly with casual touches by Linens, Things & More including vibrant pink flower arrangements and a refreshment station with ribbon-decorated mason jars.
More information about booking Villa Turquesa for your special event in Cabo San Lucas, Mexico.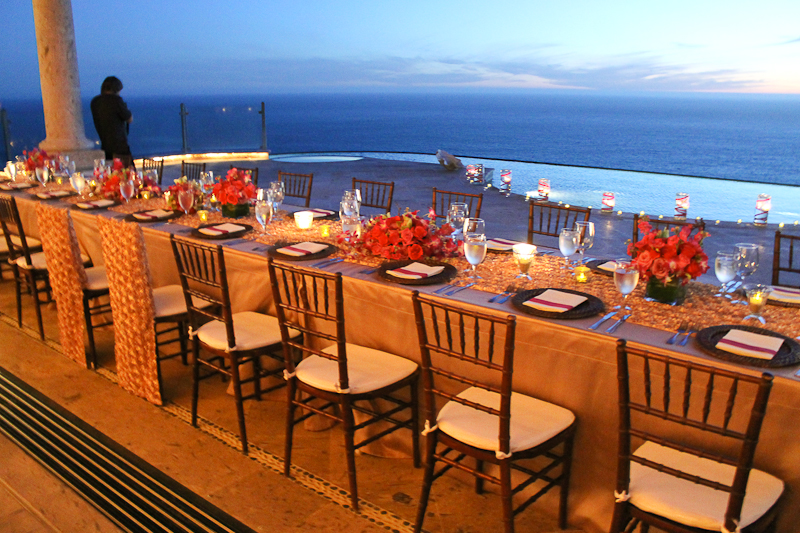 More information about Villa Turquesa
All Photos courtesy of Linens, Things & More providing customized event décor in Los Cabos, Mexico.
erciliam
Ercilia shares the latest info about Los Cabos, Mexico destination weddings, travel, ecology, events and fun from CaboVillas.com via our blog, Facebook and Twitter. To start planning your Los Cabos destination wedding, contact our reservations team.