A Sensational Wedding at Pueblo Bonito Sunset Beach, Cabo San Lucas
Lindsay & Kyle chose the breathtaking beachfront Pueblo Bonito Sunset Beach Resort for their intimate destination wedding in Cabo San Lucas, Mexico. This luxurious resort provided the perfect venue, with excellent service, romantic architecture and a spectacular setting overlooking the Pacific Ocean. Magnificently captured by talented Los Cabos wedding photographer, Danny Ramirez, the special day was made even more unforgettable by Cabo's natural beauty as the backdrop.
For information on booking this villa rental for your Cabo Wedding, contact us at 1-888-881-2226 or fill out our wedding questionnaire.
We talked to Lindsay about their experience:
Was this your first time in Los Cabos? This was our first time in Los Cabos, but will certainly not be our last! We chose this location for our wedding because of reviews from our family that had been there before. We were especially excited at how beautiful the resort was and we knew it would be a great location for our wedding.
What did you love most about having your wedding at Pueblo Bonito Sunset Beach? The backdrop for our wedding was simple – just the beach and the ocean. We were a bit concerned that it may be too plain. But it was so incredibly beautiful, we wouldn't have changed a thing. The resort offers many beautiful scenes, but in particular, watching the sunset from this resort was unsurpassable. We had the wedding just before sunset and were able to continue our photo session through sunset. It couldn't have been more perfect!
How was the experience of working with our team at CaboVillas.com (Earth, Sea & Sky Vacations)? We had our questions answered quickly and were put in touch with Danny Ramirez, our photographer, very early in the email conversations. This was especially important as we planned our destination wedding.
How was the experience of working with Danny for your wedding photos? Danny did an amazing job! He was also very friendly and easy to work with. We hadn't even discussed what we wanted with regard to our photos, but Danny's vision for our wedding photos was better than we could have planned for. We were very happy with the wedding itself, but even more importantly, Danny was able to capture each moment PERFECTLY! The story of our wedding is easily told by looking through the photos! We have already looked back at our photos multiple times and believe we will continue to do so forever. We can't seem to get enough of the phenomenal work Danny did to preserve our memories! We can't say enough about how thankful we are to have worked with such a great photographer! We would recommend him to anyone who visits Cabo and has any reason for photos to be taken!
Venue: Pueblo Bonito Sunset Beach
Photographer: Danny Ramirez
More Los Cabos Wedding Venues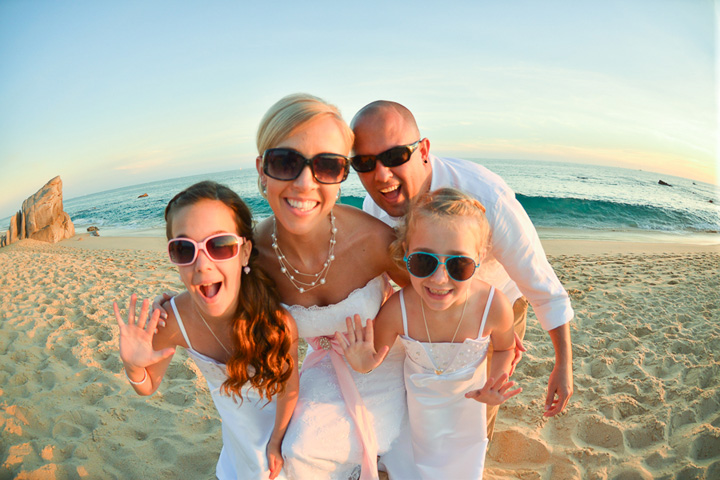 Venue: Pueblo Bonito Sunset Beach
Photographer: Danny Ramirez
More Los Cabos Wedding Venues
erciliam
Ercilia shares the latest info about Los Cabos, Mexico destination weddings, travel, ecology, events and fun from CaboVillas.com via our blog, Facebook and Twitter. To start planning your Los Cabos destination wedding, contact our reservations team.